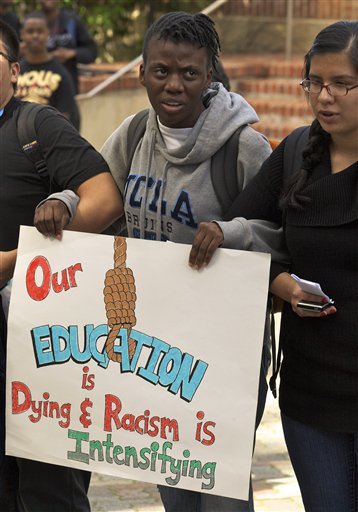 Mekeirla Bryant, center, and other students rally at the UCLA campus in Los Angeles on Tuesday, March 2, 2010 to protest racially tinged incidents." title="UCLA Political Science student Mekeirla Bryant, center, and other students rally at the UCLA campus in Los Angeles on Tuesday, March 2, 2010 to protest racially tinged incidents." border="0" width="180">
UCLA Political Science student

Mekeirla

Bryant, center, and other students rally at the UCLA campus in Los Angeles on Tuesday, March 2, 2010 to protest racially tinged incidents
http://www.youtube.com/watch?v=NcGSWdsPS8E
Is San Diego, California, trapped in a time warped and returned to the 1960's and taken the rest of the colleges across California with them?
What started at one college as a racist acts, has now spread to several campus across California. On February 15, 2010, students at the University of California held a party that mocked black history month, that was the
beginning
of tribulation that started the trials of racism openly in San Diego.
http://www.ucsc.edu/news_events/messages/text.asp?pid=3580
The school — where about 2 percent students are black — has been in turmoil over an off-campus "Compton Cookout" party organized by some students that urged people to dress as ghetto stereotypes and promised there would be chicken, watermelon and malt liquor
.
As posted in http://www.sdnn.com/sandiego/2010-03-03/local-county-news/yates-ire-about-racism-at-ucsd-is-misguided
Jim Burns stated that the words "San Diego" and "lynch" were written on either side of a graffiti that was of a noose on the inside of a bathroom door in the school's Earth and Marine Sciences building.
http://www.cbs8.com/Global/story.asp?S=12068959
Students found a noose hanging in the library on campus from a light fixture .
http://www.nbcsandiego.com/news/local-beat/Racial-Tensions-Boil-at-UCSD--85535057.html
Black students started protesting at the campus to have their voices heard and to stop the racism at the University of California.
(Beg. of Day) On February 19, many UCSD students gathered at 8am on Library Walk to protest. Chancellor

Marye

Anne Fox
On March 3, 2010 at the University of California a KKK styled hood was found.
At UC Irvine, about 250 people gathered for a "student solidarity speak out" to condemn the recent spate of racist incidents at UC San Diego that targeted black students and another incident last month at UC Davis, which targeted a Jewish student with a swastika carved on her door, said Marya Bangee, an event organizer.
The protests came on the same day UC San Diego announced the discovery of a white pillowcase fashioned into a KKK-style hood — the third racist incident around the campus in as many weeks — and a day after UC Santa Cruz officials found an image of a noose scribbled on the inside of a bathroom door.
Officials found the hood, which bore a hand-drawn circle and cross, on a statue of children's book author Theodor Geisel, aka Dr. Seuss, outside the main campus library late Monday. A rose had been inserted between the statue's fingers.
One of the students responsible for the noose apologized to the university community in an anonymous letter published Monday in the campus newspaper. She said the noose was formed while she and friends were playing around with a piece of rope and had no meaning as a lynching symbol.
as reported in http://www.cbs8.com/Global/story.asp?S=12073608
http://hiphopwired.com/2010/03/03/update-kkk-hood-appears-at-university-of-california-amidst-racial-tension/
In California one has to ask themselves is the year the 1950s or the 1960s, you certainly would not think that this is the year 2010, with the United States having a bi-racial President.
Has these racial issues in California become like an itch that you scratch, that you cannot stop because you cannot

receive

any relief from it and know that you need to put on medication, and find the root cause of the problem?
Do we call these acts racism or do we call them just childish pranks? If childish pranks how do we stop them? Does covering up the racist acts, become a solution or does it cause it to spread like wild fire? Does exposing it become the answer to stopping it? There has to be an answer for as we can see, what has started at one college campus in California has spread across the state. Is this going to become a problem that spreads to all college campuses across the country, along with high schools?
When is the book ever going to end on racism in this country?