Rev. Al

Sharpton

is demanding an apology from radio-host (and racist right winger) Rush Limbaugh
if he does not
receive
this apology, Al
Sharpton
is threatening to sue Rush Limbaugh.
"Not only did Rush Limbaugh try to criminalize the NFL," Sharpton told a columnist with the Palm Beach Post."But now he is saying I'm a criminal. He can call me a race-baiter and all that stuff like he does. But don't call me a criminal."
Rev. Al
Sharpton's
reasons for this much needed apology is as following.
In Saturday's Op-ed, Wall Street Journal, Rush Limbaugh stated that Rev. Al

Sharpton

played a leading role in the 1991 Crown Heights riots, which over a 7 year old black boy that the driver had not been arrested.
Al

Sharpton

states that his second reason is that Rush Limbaugh called his a criminal, which Rev. Al

Sharpton

replied that you may call me (Al

Sharpton

) a race

baiter

, but that he was in no way a criminal. These comments Rush Limbaugh made to the Palm Beach Post, regarding the

purchase

that Rush Limbaugh was trying to make of the NFL. Rev. Al

Sharpton

felt that Rush Limbaugh was trying to

criminalize

the NFL.
Rush Limbaugh states that his attentions to buy the NFL is Limbaugh's attempt to invest in the National Football League's St. Louis Rams franchise was overshadowed by a controversy over his "racial views," which Limbaugh says were false. In the op-ed, he also lashes out at several media outlets, including CNN and "the sports writer community," for what he calls "contempt in the news business."
In the op-ed published in Saturday's Wall Street Journal Limbaugh writes

Sharpton

"played a leading role in the 1991 Crown Heights riot (he called neighborhood Jews 'diamond merchants') and 1995 Freddie's Fashion Mart riot."
According to a statement put out by Sharpton's media consultant, a study New York Governor Mario Cuomo commissioned showed Sharpton was not involved in the Crown Heights incident until after the rioting concluded.
"Mr. Limbaugh's blatant and defamatory statements regarding the Crown Heights Riots falsely give the impression that Rev. Sharpton was present during the violence that occurred when in reality he had been called in by the family after the violence," Sharpton's statement says.
In reply to the allegations brought against him by Rev Al Sharpton, Rush Limbaugh said that " 'Racism' is too often their sledgehammer," Limbaugh writes. "And it is being used to try to keep citizens who don't share the left's agenda from participating in the full array of opportunities this nation otherwise affords each of us… It was employed against patriotic citizens who attended town-hall meetings and tea-party protests. These intimidation tactics are working and spreading, and they are a cancer on our society." As quoted in CNN's political Ticker.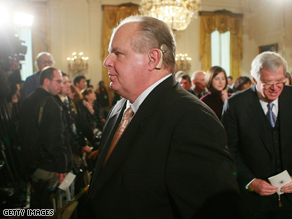 Sharpton is threatening a defamation lawsuit against Rush Limbaugh." border="0" height="219" width="292">
Of course anyone has the right to attempt to sue anyone. The question is, is this going to turn into a circus of media events or is this 2 high strong men with strong opinions with their views going into a court room to battle it out instead of in a boxing ring?
http://rawstory.com/2009/10/rev-al-sharpton-prepares-sue-rush-limbaugh-defamation/ http://politicalticker.blogs.cnn.com/tag/cnn-associate-political-producer-emily-sherman/